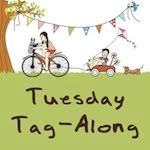 It's quite a busy Tuesday, isn't it? I've kinda been pimping out my blog a little in the past week to gain more exposure. Today I found
Tuesday Tag-Along blog hop, hosted by
Twee Poppets Review and Giveaway
! This is a great way to discover new blogs while increasing the number of followers for your own blog.
For those of you that don't know me…
I love photography and editing challenges. I created this blog with the  hopes of re-discovering my creative spirit, enhancing my photography and editing skills, documenting our life happenings and becoming a better wife (and mother one day).
I'm by no means an expert, but as I learn new tricks or skills, I share my lessons learned with you. Oh, and don't hesitate to
contact me,
if you ever have a question or challenge. 
Coming up over the next few days, I've got a couple of editing challenges, POTW Thursday and Fix-It Friday among anything else that might happen. I'm looking forward to connecting with a few new blogs and I hope you'll connect with me!