Over the weekend, we visited my husband's family in the North Carolina mountains (well close…but if I told you exactly where, you'd just be confused) to celebrate my husband's birthday (which was yesterday…happy birthday sweetheart). On Saturday, we ran a few errands in town and then planned to go back to the house. Well…we forgot to grab a key to the house – so, when we got back to the house, we were locked out. Fortunately, I had my camera plus two lenses including my macro lens. It was pretty hot and humid but I was determined to take advantage of his parents piece of property…to be sure that I'd find a neat bug, butterfly, ant…something. 
As luck would have it, I was tickled to find this little bug. 1. it was willing to sit and be photographed and 2. I actually captured it with incredible focus (yay me). I'm so tickled with this little bug that I'm linking up all over the place. So, with that said, click on one of the buttons below and check out what other people are working on this week.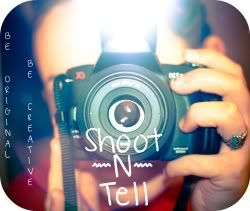 Yesterday, I mentioned Natalie's new photography challenge: Shoot-N-Tell. Show her some love and link up.
Tiffany also has a new photography challenge called Show Yourself Thursday Photos. The idea being that you show a little piece of yourself…whether it be a self-portrait, a hobby, your children, etc. Since macro photography has become such a huge part of who I am…I thought this photo would work well for my first entry.
I'm in meetings again today but I'll be around a little later to return emails and what not. Have a great day!