On Saturday, I visited with my friend Karen and her girls. You may remember the session I did with them in September. Apparently, she loved what I did so much, that she asked me if I would come over to capture the girls all dressed up for Halloween. She even paid me with a slice of sweet potato/spice cake. It was delicious!
Frances (above) and Emma (below) both dressed as UNC Cheerleaders…which seemed appropriate since UNC was playing William & Mary that night. My Grandma, wearing her Tarheel Blue jacket on Sunday, was quick to tell me that they won!
The last time I took photos at their house, I really struggled with the sun. This time, I knew my territory and took advantage of shady spots. For example, in the shot above, Emma reminded me that we had good luck in the shady spot by the playhouse.

We then walked over to another shady space, and I asked the girls if they would do a cheer for me. This quickly turned into a jumping session and made for a perfect photo op!
I love this shot of Frances laying in the grass. Doesn't she look so cooperative? Truth be told, she can be hard to keep up with, but for some reason, she decided to lay on the ground. At first she gave me her stone face, then I got her giggling and caught this moment! What a sweet shot!
What's missing here is another attempt at a group photo…this time with their dog, Patty (dressed as a pumpkin…bless her heart). I'm still working on those shots and will share soon. In the meantime, I can share this happy shot of Frances riding her bike. Like I said, she was constantly on the move (she's 3, what do you expect), so I took advantage of her having a good time. This shot makes me happy.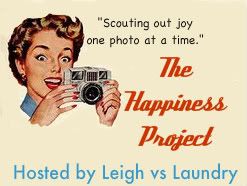 And then there's Caroline. I'm not sure that she was digging the whole "Halloween, let's play dress up" thing. She had two costumes: a duck and a lion. I really love this shot of her sitting up all by herself. So, that's all for now. Check out all the sites I'm linking up with and have a great day!