It was another quick week for me. Since I hit the road again this weekend…this time to Charleston, SC, I had to take my Scavenger Hunt photos early in the week (I also used a few photos taken last weekend). On top of that, I got a little bit sick (a sore throat that I hope is gone by now) and I decided that this was the week I would calibrate my monitor (it was quite the process, so I'll be sure to tell you more about that later). 
Oh oh…I have to tell you about my real world scavenger hunting experience. So, my husband and I went out to eat last Saturday for lunch. As we were leaving the restaurant, a group of women approached me and asked if I could touch my tongue to my nose. I immediately recognized that this group was doing a photo scavenger hunt, so of course I said yes. At the tune of yes, this group immediately gathered round for a photo of this momentous occasion and then ran off as quickly as they had approached. A few hours later, we're at the wedding reception when I see one of the girls from the scavenger hunt wandering down the hotel hallway. Said girl drops her bag and runs onto the dance floor to do the Electric Slide – oh yes, there was a wedding crasher! I think she stuck around for Brick House and then ran off. I then saw her again about an hour or so later…this time she was coming back for cake…and this time, I stopped her. 
Me: "Yo, what ya doing there slim?" (I'm not sure why I got all gangsta, but that's how I roll.) "I saw you and your peeps earlier today – I was the girl with the tongue touching her nose."

 

Girl: "Oh yeah, you rocked that!" 

Me: "So what are you doing here? I saw you dancing earlier, and now cake?"

Girl: "Yeah, so I'm chillin' at this women's conference and I was walking by when I heard my jam."

Me: "I feel that – love me some electric slide." 

Girl: "Then I got hungry. Look don't tell anyone I was here." 

Me: "I got your back girl. Have fun!"
Random, right? Anyways, I'm heading home a bit early so I'll be sure to catch up on your Scavenger Hunt Sunday entries a little later today. If you've been participating in the Scavenger Hunt each week, I hope this week's items inspired you. If you're new to the Scavenger Hunt…WELCOME! Next week's items are sponsored by Dina (and her son Sam), and the April 2011 Photo Hunt (organized by Amy).
By the way, I'm considering running some sort of giveaway or contest as a way to celebrate 1500 followers (not there yet) OR my 29th birthday in June…maybe both. I've received one email so far. If you or someone you know are interesting in being a sponsor, please contact me.
The rules are simple:
Anyone can participate. 

You're encouraged to take five new photos this week for the challenge. 

If you get stumped, you may use one photo from your archive (although I'm not too strict about it – I do my best to take fresh shots). 

Link up here on Sunday (or Tuesday at the latest) – you can use the button above.  

Leave comments for at least

five

entries around yours (we have so many new participants each week, this is the only way I know to be inclusive).

Have fun!
Without further discussion…here are my interpretations this week:
I don't really have much to say about this photo – this is my husband's pocket watch. I'm not sure he's ever used it, but he should…definitely has swagger written all over it.
I've always wanted to capture birds on a wire…and this past weekend, I did. Because it's National Poetry Month (in the USA), per Teagan's suggestion, I added this poem by Edwina Reizer to my image. To learn more about National Poetry Month, click: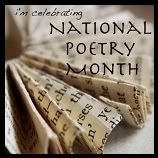 While we waited for the wedding to start last weekend, I told my friends Jenny and Candace to look over at me. I was adjusting my settings when Jenny made some comment like "come on now…" in which case, I caught this face. She told me not to post – I told her I didn't hear her.
4. Zoom! (or from the car)
We fully planned to leave our house last Friday around 3pm. However, we might have nearly gotten locked out of the house and forgotten a few errands that had to be done before we were able to really leave. So, when we finally hit the road, it was closer to 4pm. As we started merging over to the lanes that would take us to the beach, we saw this. Luckily, it moved pretty quickly and we were at the beach within a couple of hours.
"Isolation is a self-defeating dream.

" ~
Carlos Salinas de Gortari
When I saw this prompt, I immediately envisioned almost this exact image (not sure what exactly this says about me…maybe you know?). I think I was imagining what it might look to feel all alone…completely isolated. I don't even feel that way, but I have fallen in love with self portraiture – it's been such a great way for me to explore photography concepts that I might otherwise not have a chance to experiment with. 
I have to admit that I waited a little too late in the evening to set up the shot so I had to use a much higher ISO setting that I'd ideally like, BUT I wanted very minimal lighting. So, I used what I call a "funeral parlor light" (you know the ones that point up – I just don't care for them, no offense if you own one…we have two) on the ground aimed to my right side. I then brought in the fan so I could have a little more movement in my hair. In post-processing, I used Florabella's BW Film action along with a couple of textures by Kim Klassen (I think Silence and Grey Day).
What were your interpretations of the items this week? I can't wait to check them out. Be sure to load your pictures in your blog (or your Flickr photostream) and link up at the bottom of this post.  Feel free to grab a button to display on your blog along with your scavenger hunt items. The linky will be open until Tuesday night at midnight (EST). If you didn't participate this week, but want to participate next week, here are your items (these can also be found at the bottom of my blog each week) – I hope you don't mind that there isn't a specific "Easter" related prompt:
Again, thank you to Dina, and Amy (organizer for April 2011 Photo Hunt) for so many great scavenger hunt items. If you'd like to contribute items to the list, just send me an email with your suggestions (I can better keep track of them this way…and we've got some great prompts coming up in future weeks). Each week, I will select one reader's prompt list, add those items to what is currently on tap and give the selected reader a shout out on my blog during Scavenger Hunt Sunday.

Be sure to come back tomorrow for Shoot and Edit: Part 1, Week 14.  The prompt/theme is "faith." Happy Shooting!