Blogger decided on Friday to update their system. As a result, I had to quickly redo the Scavenger Hunt…it also ate my Friday Post and my Thursday post (although it appears to still be in blogger so I hope that will auto correct or at least I can repost). It has  already been a busy weekend though….definitely didn't need to be dealing with blogger. Yesterday my friend, Jennifer, got married and today we'll go to another wedding. Oh yeah…I'm exhausted, but I do want to say Congratulations to both friends. I didn't take many pictures but I may share what I did take.
Anyways, if you've been participating in the Scavenger Hunt each week, I hope this week's items inspired you. If you're new to the Scavenger Hunt…WELCOME! Next week's items are sponsored by
Katie, Abby, and Laurie
.
The rules are simple:
Anyone can participate. 

You're encouraged to take five new photos this week for the challenge. 

If you get stumped, you may use one photo from your archive (although I'm not too strict about it – I do my best to take fresh shots). 

Link up here on Sunday (or Tuesday at the latest) – you can use the button above.  

Leave comments for at least

five

entries around yours (we have so many new participants each week, this is the only way I know to be inclusive).

Have fun!
Without further discussion…here are my interpretations this week:
1. Give Me Flowers
I decided to pull out my Lens Baby for this prompt since it hasn't gotten enough love in a while. This is just another view of our front yard. I kinda miss my Lens Baby – maybe we need a date.
I love how small our nephew looks next to the giant blow up.
This shot was taken before most people arrived to the party – I don't even know what I was taking a picture of when our niece and her friend walked up to see what I was doing. Rather than shoo them away (I mean, it was her birthday), I asked if she might like me to take their photo. Duh! I then suggested that they jump. They weren't exactly on the same jumping schedule but they had fun with it.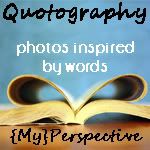 This little boy is enjoying a cupcake. Last weekend, during the birthday party, I walked by and asked him if he was enjoying his cupcake. He paid me no attention. I then noticed that he put the cupcake he's eating in the picture down and grabbed another one. On the right, you'll see three of his previous cupcakes. Apparently, he really liked the icing. We counted 7 cupcakes once his mom grabbed him.
I used to have a hard time getting myself to sleep, until my mom got me a couple of eye masks (I think they were grouped in one of my Christmas presents). I actually thought they were rather ridiculous, but they make a huge difference and make our bedroom completely dark. What is ridiculous is the remainder of my sleeping ritual – I wear a mouth guard and ear plugs in addition to the sleep mask…but I sleep so much better than I used to. Oh, and my eyes are DARK brown. 
What were your interpretations of the items this week? I can't wait to check them out. Be sure to load your pictures in your blog (or your Flickr photostream) and link up at the bottom of this post.  Feel free to grab a button to display on your blog along with your scavenger hunt items. The linky will be open until Tuesday night at midnight (EST). If you didn't participate this week, but want to participate next week, here are your items (these can also be found at the bottom of my blog each week):
Again, thank you to Katie, Abby, and Laurie for so many great scavenger hunt items. If you'd like to contribute items to the list, just send me an email with your suggestions (I can better keep track of them this way…and we've got some great prompts coming up in future weeks). Each week, I will select one reader's prompt list, add those items to what is currently on tap and give the selected reader a shout out on my blog during Scavenger Hunt Sunday. Also, be sure to come back tomorrow for Shoot and Edit: Part 1, Week 19.  The prompt/theme is "Rain/Umbrella." Happy Shooting!