First of all…Happy Father's Day! We're planning to spend the day with my family to celebrate Father's Day and my birthday, so if I go missing for a few hours, that's where I'll be. Time seems to be flying right now…I can literally feel it slipping between my fingers. Must mean that I'm having fun…at least I think I am. I'm also fairly busy. When I get busy…I get productive, and I love to be productive. At work, we had two new hires this past week – since I'm not coordinating our recruiting efforts, I feel a certain pride each time we make a successful hire. For so long, I felt like I was just hanging on, but now I feel like I'm making a contribution. Yay me! 
On another note, I'm feeling really good about my photography. Perhaps, it's because I've been taking lessons from Yoda. Okay, not really…but I just ran across a really great article called The Jedi Knight's Guide to Photography. Be sure you click over for the full article, but
here are a few of the overarching lessons that Yoda, Qui-Gon Jinn, and Hans Solo offer for your photography journey:
"Fear is the path to the dark side. fear leads to anger. anger leads to hate. hate leads to suffering" – Yoda
"Feel, don't think. Trust your instincts." – Qui-Gon Jinn
"You must unlearn what you have learned." – Yoda
"Size matters not. Look at me. Judge me by my size, do you? Hmm? Hmm." – Yoda
 "Look, good against remotes is one thing, good against the living, that's something else" – Han Solo
"Do or do not. There is no try" – Yoda
Point being…read the article! Anyways, if you've been participating in the Scavenger Hunt each week, I hope this week's items inspired you. If you're new to the Scavenger Hunt…WELCOME! Next week's items are sponsored by
Ginger
and
Rosie
.
The rules are simple: 

Anyone can participate. 
You're encouraged to take five new photos this week for the challenge. 
If you get stumped, you may use one photo from your archive (although I'm not too strict about it – I do my best to take fresh shots). 
Link up here on Sunday (or Tuesday at the latest) – you can use the button above.  

Leave comments for at least

five

entries around yours (we have so many new participants each week, this is the only way I know to be inclusive).

Have fun!
Without further discussion…here are my interpretations this week:
I wasn't sure what to do for this prompt…so, the other night just before daylight completely disappeared, I propped my camera up in the window and started making faces. For some reason, this one really stuck out to me – raw emotion. It's almost as if there's a hint of sadness and fear in my eyes. I promise that I'm just acting though…I'm a happy girl!
2. From a Flower's Point of View
Do flowers have eyes? Do you think they can see? And if they could see, I wonder if they are near sighted, far sighted or better yet…have 20/20 vision. I have no idea, but I figure that if I were a flower, the above shot might be what I see.
If you want to see others interpretation of "From a Flower's Point of View," either click on the button below or
HERE
for the Flickr Group.
My photo last week, featuring our friends Mary and Enrique, was a great example of framing. I'm not sure the above photo is exactly what Miriam had in mind when she suggested this prompt. However, when I saw Kitty Paw sitting by the door, I noticed that our kitchen table nicely framed her. So what if it's a stretch.
We had Chinese the other night for dinner. One of our favorite parts about the meal is opening our fortune cookies. I had a really good one on this particular night (I'm sure I'll share it another time or post it to my Facebook Page), but I decided to show the back of the message. I can only assume that this says PEAR in both English and Chinese.
Technically, I took this photo last week during my portrait session with Casey…but I didn't process it until Wednesday evening. I remember asking her to run up to the top of a hill and walk casually across. If you mouse-over, you can see my SOOC shot. It's okay but by no means the image I had in mind when I clicked the shutter…nothing a little post-processing can't fix. I can totally imagine this blown up on canvas…I guess because it reminds me of one of my favorite portraits from my wedding day.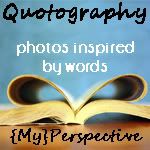 What were your interpretations of the items this week? I can't wait to check them out. Be sure to load your pictures in your blog (or your Flickr photostream) and link up at the bottom of this post.  Feel free to grab a button to display on your blog along with your scavenger hunt items. The linky will be open until Tuesday night at midnight (EST). If you didn't participate this week, but want to participate next week, here are your items (these can also be found at the bottom of my blog each week):
Again, thank you to
Ginger
and
Rosie
for so many great scavenger hunt items. If you'd like to contribute items to the list, just send me an email with your suggestions (I can better keep track of them this way…and we've got some great prompts coming up in future weeks). Each week, I will select one reader's prompt list, add those items to what is currently on tap and give the selected reader a shout out on my blog during Scavenger Hunt Sunday. Also, be sure to come back tomorrow for Shoot and Edit: Part 1, Week 24.  The prompt/theme is "Father's Day." Happy Shooting! 
By the way, don't forget about my Thank You Giveaway sponsored by Katie Lloyd Photography – she's giving away the Vroom Vroom Collection, a $72 value!
It ends June 21st at 10 PM EST. AND, over at Just the Two of Us, I'm also giving away a SIGNED 8×10 print of my photograph: 1000 Cranes. Click over for all the details.