This year, we celebrated Independence Day with our friends Karen and John. You might remember Karen and John from
THIS POST
– I had the treat of taking their wedding "day after" photos. 
John's Grandfather's flag – he fought in World War II.
I'm pretty sure that we would have grilled hamburgers and hot dogs had we not gone over to Karen and John's house…which would have been fine. But, thank God they invited us over – we had steak tips, bratwurst, grilled vegetables and HOMEMADE (hand-churned) ICE CREAM (peach and mint chocolate chip)!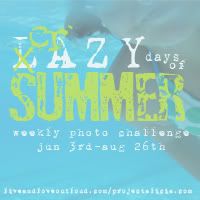 I also got to see a few of my favorite photos in large print. In particular,
THIS SHOT
looks amazing in a simple black and white frame. WOW!
Just as we were about to head out for the evening, the bottom of the sky completely fell out…Kitty Paw immediately disappeared under the couch and I worried that our cookout would be rained out. Luckily, Karen and John's house hadn't been hit…yet. 
As we finished up dinner, the sky started getting darker. I felt two raindrops and decided to start moving our cook-out inside. Needless to say, as soon as the last dish was brought in, it poured…not for long, but long enough that the big firework display was cancelled.
Luckily, earlier that day I mentioned to my husband that I wanted some sparklers. I thought they'd make fun photos. We decided we'd bring them over to Karen and John's house just in case. I also brought my tripod but the ground was so nasty that I decided to free-style it. Here's a few of my favorite sparkler shots.
The sparklers were a hit, but we also bought some relatively tame fireworks (to make for for the lack of "real fireworks"). I thought it would make a fun GIF…I used Elena's tutorial for Photoshop (click
HERE
).
Our fun was short-lived though, considering we only bought one dose of firework awesomeness. Of course, John jumping into the fire could have made for an interesting night. I hardly recall being given warning so it's pretty cool that I was able to capture this moment.
All in all, it was a great night…and since I know that Karen and John follow my blog – thanks so much for having us. Happy Friday!