Hi, I'm Kel….wait….back it up….
First of all..what an HONOR to be asked to be a guest blogger over here at Ramblings and Photos. Ashley is the bomb.com. Second, this is my FIRST guest blog EVER and you are my first victims….errr..I mean joyous readers. Truly awesome! Thanks Ashley!!!
now…
Hi, I'm Kel and I'm 31 years old….3 kids, 1 husband, no dogs..cats…leopards, snakes, etc. My kids are a little (a lot) like animals, so…they keep me on my toes all the time.
This said husband and I have had a really cool journey together the last 11 years. We met in college at a Campus Crusade meeting. I was there to sign up to get a tan at the beach and he was there to sign up and meet me :)….and go on a missions trip to the beach, details..details.
Then, we dated for 4.5 years. You heard me right ladies…4 1/2 years. We had to finish school first and then we got jobs, then we decided to quit those jobs to travel overseas with Campus Crusade and THEN get engaged and married. We went to China for a year, came back and got married…
….raised the appropriate amount of money to go back over to China and there we would reside for 3 more years. We moved every year…had 2 kids…lived on the 18th, 2nd, and 23rd floors of apt. buildings. We walked/biked/electric biked/above ground metro/underground metro'ed it everywhere. Oh yeah…and the taxi's….can't forget those fast devilish things. 🙂 I almost went into serious labor in one of those puppies…..a story for another time I suppose. Anyway, it was the best experience of my life.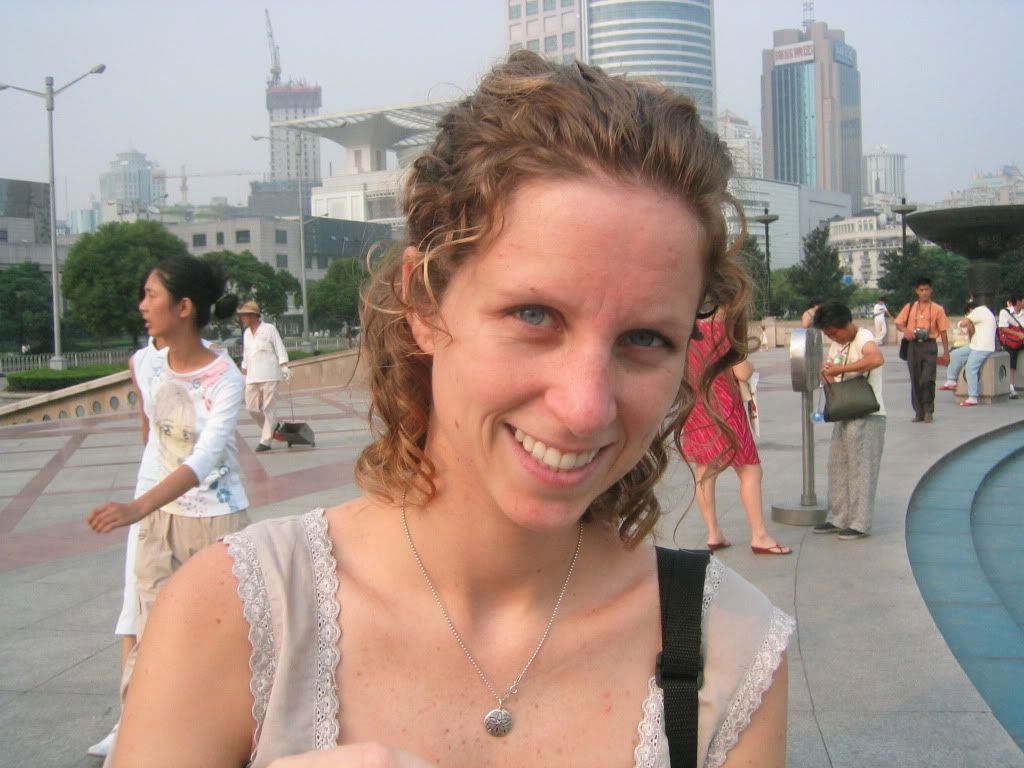 (look how young and happy I was there ) (Hahahahahaha)

Though I loved how great the city looked at night or even during the day…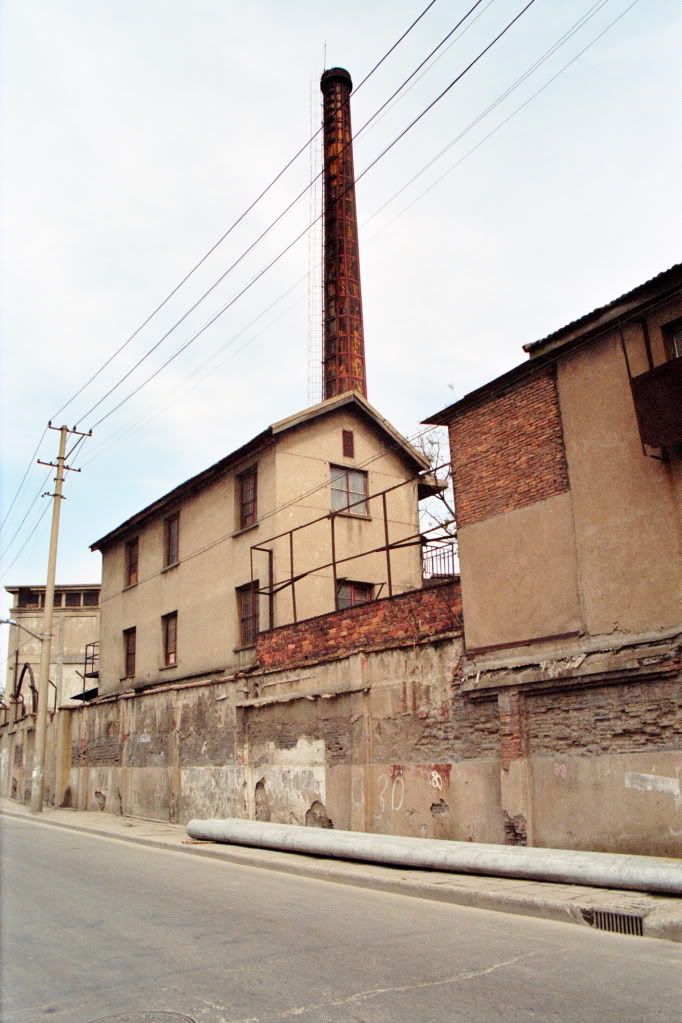 …it was this that I loved.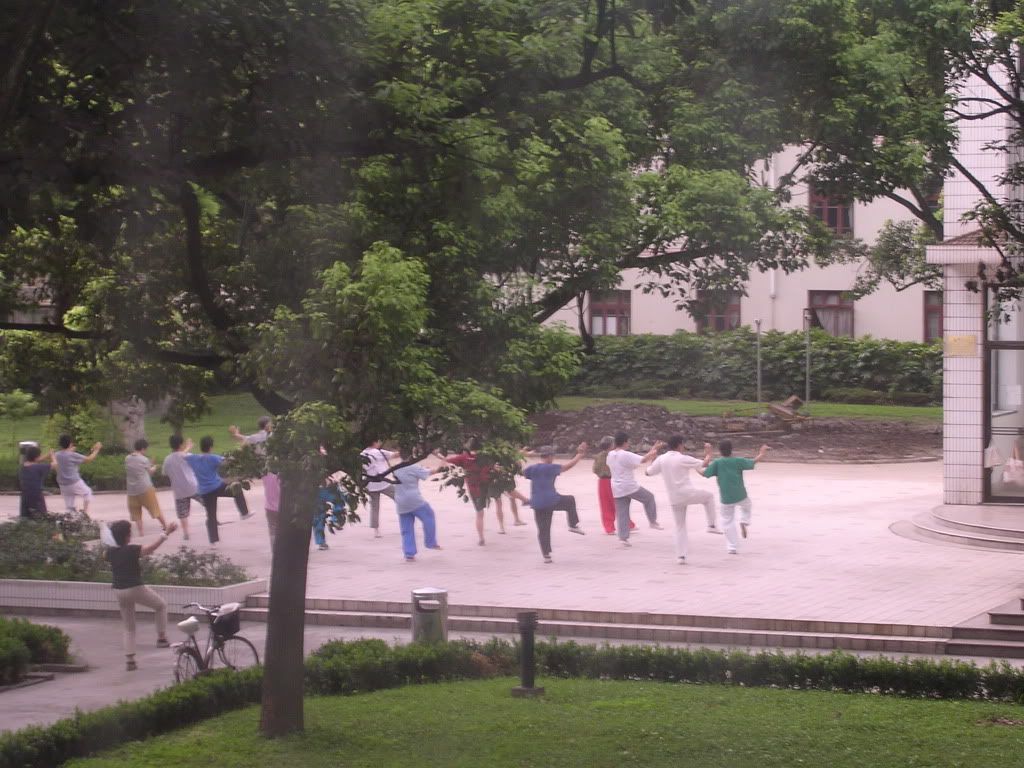 and the city those people live in.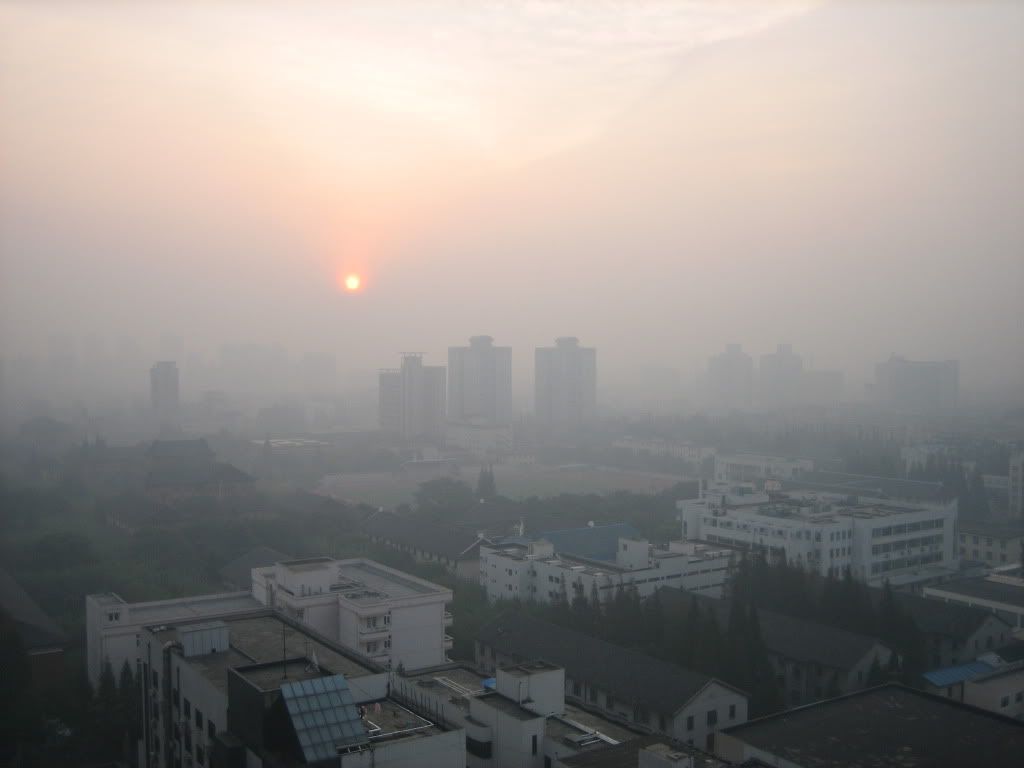 So, what were we doing in this city and with those people. We were sharing our Faith. What does that mean? Well….I believe in God. I believe that God sent his ONLY Son to die on the cross for me and my sins. I'm not here to give you the Sunday School answers or tell you what the awesome book of the Bible says. But I will say this….God saved my life. He has blessed it abundantly since I asked Jesus into my heart. The Blood of Christ gives me a freedom I would NEVER have had if God didn't pursue me and call me His own. What a blessing I have in Him.
So, we were sharing this amazing HOPE with folks that have NEVER heard the name of Jesus or the story of the Cross (amazing I know). It was just that. I found it amazing and surprisingly easy to share with the Chinese my love for God. I had many people interested. I made friends like it was nobody's business. You literally walk into (sneak into) the dorm buildings and knock on the doors. "Would you like to be friend with me?" because I was a foreigner…the answer was always "YES!" I love the Chinese people. They follow after God's own heart with a passion and fervor that I had never seen before. I grew up seeing church goers at church. I didn't get to do all the church youth things that were offered, so..I didn't really see the heart of the church.
Every time we would come home, people would say "It's amazing you can do that sort of missions" or "I could never do that…leave my family….go to a foreign country…leave the comforts of America." To which I would say "oh, I just love it…I think that's why I can do it." God gave me that love. But here's the real point of this post today.
I listened to a speaker this last weekend at church. His testimony was…incredible. Brought out of darkness (for real darkness) and into the light. God saved him. It was miraculous for sure. But, he made one statement that hit home. He said,
"The town you live in..I would be surprised if there were 6% Christians in it…You live in a war zone…one where Satan wants your children and those really on fire for the Lord. If your just luke warm….he's not going to waste his time…your not worth it to him." 
He went on and on, but that really stuck with me. I used to tell people as a retort to their amazement of sharing the gospel in a foreign country "The real people on the front lines are those doing ministry here in America…I could never do that". Then, I stopped,
looked around,
and saw…that I was in America. God moved us home 3 years ago. We moved home because we had plans of changing cities for Christ. We had the passion and ambition to do this single handedly…well, with God of course. We thought we could do it. And after a few months..the fire was there…..
a few more months…..
the fire was getting smaller and smaller
until…..I am buried under 5 loads of laundry, 3 kids and dishes!!!
Where did the fire go? I told people I could NEVER do ministry in the states and now…..here I am. Not a part of any missions group. Just me by my lonesome. I have fully embraced that my kids are my missions field for sure. That takes some of the guilt away, but…..where are the people that need saving? Where are the dorm rooms with doors that need to be knocked on. Where are the friends who have never heard the name of Jesus.
If that man is right and only 6% MAX of this small town is Christian…..then the answer is clear…they are right here! My neighbors, people in the grocery store, PTA members, moms at the parks, mom's at the pool or in the pick up line at school. They are EVERYWHERE!
So, what am I gonna do about it? good question. I am still a little scared and shaking in my boots about it. Fearful of rejection from my fellow town mates. But God can do……….anything. He can bring someone to me who needs to hear encouragement or who needs a friend. The gospel is LOVE. I can love on people who need it!
This poem explains the sacrifice of comfort better than I can:
Obedience


I said: "Let me walk in the fields."

He said: "No, walk in the town."


I said: "There are no flowers there."


He said: "No flowers, but a crown."

I said: "But the skies are black;
 There is nothing but noise and din."

And He wept as He sent me back –
"There is more," He said; "there is sin."

I said: "But the air is thick, 
And fogs are veiling the sun."


He answered: "Yet souls are sick,
 And souls in the dark undone!"

I said: "I shall miss the light, 
And friends will miss me, they say."

He answered: "Choose tonight 
If I am to miss you or they."

I pleaded for time to be given. 
He said: "Is it hard to decide?


It will not seem so hard in heaven


To have followed the steps of your Guide."

I cast one look at the fields,


Then set my face to the town;


He said, "My child, do you yield?


Will you leave the flowers for the crown?"

Then into His hand went mine;


And into my heart came He;

And I walk in a light divine,


The path I had feared to see.
Thanks Ashley for allowing me to get vulnerable and push myself to be held accountable by all you amazing readers. I hope you stop by
Then There Were 5
for some more random banter 🙂 and photos of this cute thang. 🙂