Hi, my name is Ashley and I'm a stretch-aholic. Let me explain. For the past few weeks, I've said that my photos are a stretch. Stretch or not, I've been a little busy between my day job and life…therefore, I haven't been as intentional about what I'm photographing for the scavenger hunt. I guess it doesn't really matter, but I felt the need to confess. Alright, moving right along.

In other news, we went to the beach with my family this weekend. I hope to share some photos from our time together later this week – my sweet sister even let me practice couple's photography on her and her boyfriend!
But enough about me. If you've been participating in the Scavenger Hunt each week, I hope this week's items inspired you. If you're new to the Scavenger Hunt…WELCOME! Next week's items are sponsored by the
Shades of Autumn
,
Paper Heart Camera,
and
Ginger
.
The rules are simple:
Anyone can participate.
You're encouraged to take five new photos this week for the challenge. Creativity is also encouraged!
If you get stumped, you may use one photo from your archive (although I'm not too strict about it – I do my best to take fresh shots).
Link up here on Sunday (or Tuesday at the latest) – you can use the button above.
Leave comments for at least five entries around yours (we have so many new participants each week, this is the only way I know to be inclusive).
Have fun!
Without further discussion…here are my interpretations this week:
Can you figure out what this is? I won't make you guess…it's spaghetti. I've seen several inspiring spaghetti macros lately, so I decided to give it a try. I'm not completely satisfied but I didn't have time this week for a re-shoot.
Leaves have so much texture…especially when they're at this stage. Not only do I love this shade of red that comes with autumn, but I equally love all the speckles and texture. 
You know I couldn't post a "home" photo without including Kitty Paw. Quite honestly, she wasn't really in the mood for a photo shoot, but she let me have this moment.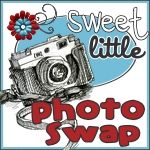 I don't know what this has to do with cover. I'm not really sure how to even interpret "cover." However, if I were on this particular fair ride, I'd probably be "covering my eyes."
Technically this is more than one tree…it's not even a new photo. I didn't make my way over to one of my favorite trees out in the country this past week. However, I was inspired by Pam's recent
"Edit Me"
post using a pencil sketch action. I couldn't wait to find the action and give it a try myself – very cool. Click
HERE
to download it yourself.
What were your interpretations of the items this week? I can't wait to check them out. Be sure to load your pictures on your blog (or your Flickr photostream) and link up at the bottom of this post. Feel free to grab a button to display on your blog along with your scavenger hunt items. The linky will be open until Tuesday night at midnight (EST). If you didn't participate this week, but want to participate next week, here are your items (these can also be found at the bottom of my blog each week):
Food
Purple (Shades of Autumn prompt)
In Disquise (Paper Heart Camera prompt)
Shapes (Ginger's prompt)
Photographer's Choice 
Again, thank you to
Shades of Autumn
,
Paper Heart Camera,
and
Ginger
for so many great scavenger hunt items. If you'd like to contribute items to the list, just send me an email with your suggestions (I can better keep track of them this way). Each week, I will select one reader's prompt list, add those items to what is currently on tap and give the selected reader a shout out on my blog during Scavenger Hunt Sunday. Also, be sure to come back tomorrow for
Shoot and Edit: Part 1, Week 43
. The prompt/theme is "Costumes." Happy Shooting!