This weekend has been quite a treat. On Friday evening, we officially celebrated our 2nd wedding anniversary with a french dinner at
Saint-Jacques
…it was delicious. Then, on Saturday morning, we went out for PUMPKIN PANCAKES. For those of you who live in my area, you already love
Brigs
…and if you're anything like me, you look forward to their pumpkin pancakes each year. YUM! Then we made our way to the fair. Needless to say, it was a wonderful weekend.
But enough about me. If you've been participating in the Scavenger Hunt each week, I hope this week's items inspired you. If you're new to the Scavenger Hunt…WELCOME! Next week's items are sponsored by
Kat, the Mortal Muses,
Paper Heart Camera,
and
Jenny Rain
.
The rules are simple:
Anyone can participate.
You're encouraged to take five new photos this week for the challenge. Creativity is also encouraged!
If you get stumped, you may use one photo from your archive (although I'm not too strict about it – I do my best to take fresh shots).
Link up here on Sunday (or Tuesday at the latest) – you can use the button above.
Leave comments for at least five entries around yours (we have so many new participants each week, this is the only way I know to be inclusive).
Have fun!
Without further discussion…here are my interpretations this week:
1. Words
I actually started to pursue this prompt by going to
Wordle.net
. Unfortunately, I couldn't manage to download my creation (or maybe I was just too lazy to figure it out – completely possible). Then I ran across a postcard that
Kat
sent me a few weeks ago. It was already a beautiful postcard, but I played it up in Pixel Bender. I love the message.
These are my new Parisian shoes…aren't they cute? And yes, technically this is an old shot…but I just now processed it. I believe my camera was under a table in order to capture this shot. Okay, you got me…it's a stretch.
This is one of my favorite shots from the 2-month old session I posted on Friday. I was hoping that Zan would toss his legs back all the way. When I told his mom and grandma what I wanted, they took off his pants and sure enough, his legs (or rather leg) went up. So cute!

We live pretty close to the airport so seeing airplanes isn't really a big deal. However, seeing this old school plane, then capturing it…definitely cool.
I really don't know what this has to do with the prompt. I was doing laundry yesterday morning and had several items from the hunt outstanding. So, while my husband was trimming the bushes, I thought I'd photograph the leaves. From his point of view, yard work is not exactly the ideal way to spend your Saturday afternoon. On the bright side, it's a beautiful day!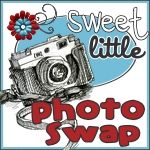 What were your interpretations of the items this week? I can't wait to check them out. Be sure to load your pictures on your blog (or your Flickr photostream) and link up at the bottom of this post. Feel free to grab a button to display on your blog along with your scavenger hunt items. The linky will be open until Tuesday night at midnight (EST). If you didn't participate this week, but want to participate next week, here are your items (these can also be found at the bottom of my blog each week):
Again, thank you to
Kat, the Mortal Muses,
Paper Heart Camera,
and
Jenny Rain
for so many great scavenger hunt items. If you'd like to contribute items to the list, just send me an email with your suggestions (I can better keep track of them this way). Each week, I will select one reader's prompt list, add those items to what is currently on tap and give the selected reader a shout out on my blog during Scavenger Hunt Sunday. Also, be sure to come back tomorrow for
Shoot and Edit: Part 1, Week 42
. The prompt/theme is "Memories." Happy Shooting!