I don't have much to lead in with today, so I'll get right to it [unless you're someone that has been asking me for a Christmas List, then click on the link at the top of the page…subtle much?]. If you've been participating in the Scavenger Hunt each week, I hope this week's items inspired you. If you're new to the Scavenger Hunt…WELCOME! Next week's items are sponsored by
Paper Heart Camera,
the
Shades of Autumn, Abby
and
Anika
.
The rules are simple:
Anyone can participate.
You're encouraged to take five new photos this week for the challenge. Creativity is also encouraged!
If you get stumped, you may use one photo from your archive (although I'm not too strict about it – I do my best to take fresh shots).
Link up here on Sunday (or Tuesday at the latest) – you can use the button above.
Leave comments for at least five entries around yours (we have so many new participants each week, this is the only way I know to be inclusive).
Have fun!
Without further discussion…here are my interpretations this week:
On Friday, I met up with
Sarah
and her boys. Whenever I meet up with Sarah, I have to fast-forward and put on my mom brain…which means I scan my brain for family-friendly locations also known as parks and playgrounds. I mentioned to her that I still hadn't completely the scavenger hunt – I normally have these photos done by Friday morning. So…I went looking for the remainder of my hunt. Any idea what this is?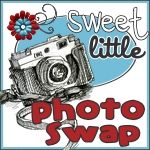 Last weekend, we went to visit my in-laws (thus the reason it took me a little longer to blog hop). On Saturday evening after dinner, we all went outside to enjoy the last hour of daylight. Our nephew thought this was a perfect time to ride…my husband pushed.
Once the sun went down (still at my in-laws last weekend), we came back inside for cake and ice cream…to celebrate my brother-in-law's birthday. I think a few candles are missing.
Back to my day with
Sarah
. I really struggled with this prompt and my photo is a complete stretch…well, maybe not. The red line could be a mouth. There are three eyes though…but it could just be the two with Dustyn's face as the nose. Seen another way, I certainly wasn't expecting to see Dustyn's little face peaking through.
I decided to use my Lens Baby and star filter for this photo. The bokeh was fairly easy to achieve…the rainbow flare was a bonus!
What were your interpretations of the items this week? I can't wait to check them out. Be sure to load your pictures on your blog (or your Flickr photostream) and link up at the bottom of this post. Feel free to grab a button to display on your blog along with your scavenger hunt items. The linky will be open until Tuesday night at midnight (EST). If you didn't participate this week, but want to participate next week, here are your items (these can also be found at the bottom of my blog each week):
Paper Heart Camera,
the
Shades of Autumn, Abby
and
Anika
for so many great scavenger hunt items. I've actually got several weeks worth of prompts waiting in my inbox, but if you'd like to contribute items to the list, just send me an email with your suggestions (I can better keep track of them this way…and we've got some great prompts coming up in future weeks). Each week, I will select one reader's prompt list, add those items to what is currently on tap and give the selected reader a shout out on my blog during Scavenger Hunt Sunday. Also, be sure to come back tomorrow for
Shoot and Edit: Part 1, Week 41
. The prompt/theme is "Pumpkins." Happy Shooting!