This week, I thought it might be nice to actually pick up my camera…in fact, I'm only using ONE vacation photo. Aren't you proud of me? If you've been participating in the Scavenger Hunt each week, I hope this week's items inspired you. If you're new to the Scavenger Hunt…WELCOME! Next week's items are sponsored by
Kat,
Paper Heart Camera
,
Danielle
and
Anika Toro
.
The rules are simple:
Anyone can participate.
You're encouraged to take five new photos this week for the challenge. Creativity is also encouraged!
If you get stumped, you may use one photo from your archive (although I'm not too strict about it – I do my best to take fresh shots).
Link up here on Sunday (or Tuesday at the latest) – you can use the button above.
Leave comments for at least five entries around yours (we have so many new participants each week, this is the only way I know to be inclusive).
Have fun!
Without further discussion…here are my interpretations this week:
1. Inspired by a Book or Movie 
Charlotte's Web
I was NOT looking for spiders or spiderwebs when I came upon this shot. But, to be honest with you…I didn't really know what I would do for this prompt. "Charlotte's Web" seems like an easy choice – I could go with "Along Came a Spider," but wasn't that a thriller?
I took this photo during our last night in London. I want to say that we were eating at a little Italian restaurant. I was still trying to practice a bit of night photography so I brought my camera along. When I saw this family walking, I knew that there was a moment just waiting to be photographed. As soon as the little boy rounded the corner, he took off. The "brown" part of this prompt may be a stretch, but there's a lot of heavy brown processing in this shot.
I'm not sure that this photo effectively illustrates haze the way I witnessed it the other morning, but I'm really loving the slow starts to my day right now. It's still a bit dark while I'm getting ready in the morning, so when I get to work…the sun is coming up to create a beautiful warm haze. I love that.
I don't normally drink Starbucks' coffee (seems kinda pricy to be a regular habit…and I'm cheap), but I love love love Pumpkin Spice Lattes. The other day, I treated myself to one…and of course I photographed it!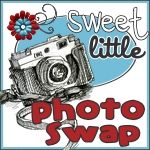 I only thought we were done with the mushroom village in our yard…but apparently they've decided to "linger" around a little more. I made sure to photograph them AGAIN before my husband destroyed them.
What were your interpretations of the items this week? I can't wait to check them out. Be sure to load your pictures on your blog (or your Flickr photostream) and link up at the bottom of this post. Feel free to grab a button to display on your blog along with your scavenger hunt items. The linky will be open until Tuesday night at midnight (EST). If you didn't participate this week, but want to participate next week, here are your items (these can also be found at the bottom of my blog each week):
Again, thank you to
Kat,
Paper Heart Camera
,
Danielle
and
Anika Toro
for so many great scavenger hunt items. I've actually got several weeks worth of prompts waiting in my inbox, but if you'd like to contribute items to the list, just send me an email with your suggestions (I can better keep track of them this way…and we've got some great prompts coming up in future weeks). Each week, I will select one reader's prompt list, add those items to what is currently on tap and give the selected reader a shout out on my blog during Scavenger Hunt Sunday. Also, be sure to come back tomorrow for
Shoot and Edit: Part 1, Week 39
. The prompt/theme is "Orange." Happy Shooting!