This past week was nice…normal workday, normal gym routine, normal bedtime…even time for some fresh shooting. And after last week, I really needed it. But this week, I'm hitting the road again. In fact, as of today, I will be traveling for work. I'll get back on Wednesday…just in time for Thanksgiving. I'll still be blogging (and I'll also have my camera…duh), but my time will be limited so I apologize in advance for my lack of commenting. I'm sure a few of you will tell me I don't need to apologize, but I really do love the community aspect of blogging.
With that said, if you've been participating in the Scavenger Hunt each week, I hope this week's items inspired you. If you're new to the Scavenger Hunt…WELCOME! Next week's items are sponsored by
Kamana
and
Mikayla
.
The rules are simple:
Anyone can participate.
You're encouraged to take five new photos this week for the challenge. Creativity is also encouraged!
If you get stumped, you may use one photo from your archive (although I'm not too strict about it – I do my best to take fresh shots).
Link up here on Sunday (or Tuesday at the latest) – you can use the button above.
Leave comments for at least five entries around yours (we have so many new participants each week, this is the only way I know to be inclusive).
Have fun!
But, before we can get into the hunt…I have a winner to announce. According to
Random.Org,
#31 –
Rocky Mountain Mama
has won a free blog design by Gracely Designs. I'll email you details later today. Congratulations. Now, without further discussion…here are my interpretations this week:
1. Mainly One Color
Last Sunday, I took a brief date with my camera and walked up the road a bit to capture some of the fall leaves. I'm sure I'll share more of them over time, but I love the autumn reds in the shot.
I'm a bit of a "home body," so most of my photos are taken around the house…but I'm not sure that I've ever taken a moment to look up. Quite honestly, I'm not a huge fan of our chandelier…I guess it's too "commercial home builder ordinary" for me, but it's not hurting anyone.
The other night I was backing up my computer when I noticed the reflection of our guest room window in my computer screen. I first noticed it when Kitty Paw jumped up to see what I was doing. I didn't have my camera though so I quickly and quietly went downstairs to grab it. By the time I came back upstairs, she was no longer interested. I still think the reflection and the illusion of the Eiffel Tower (my background) looks pretty cool.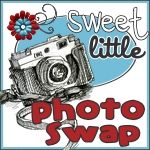 Many of you know my friend
Larissa
– not only are we blog friends, but we are also pen pals. Just the other day, I received my latest letter from her. I love the art of a hand-written letter!
You'll notice that some of the prompts for Scavenger Hunt Sunday repeat themselves every few weeks in various forms. I'm pretty sure that water is one of them (wet, liquid, etc). While I will often try to spread these out so we don't have too many repeats in a row, I think it also challenges me to find new interpretations…and try out new compositions. For example, I rarely take a shot directly overhead like this…but I like it.
What were your interpretations of the items this week? I can't wait to check them out. Be sure to load your pictures on your blog (or your Flickr photostream) and link up at the bottom of this post. Feel free to grab a button to display on your blog along with your scavenger hunt items. The linky will be open until Tuesday night at midnight (EST). If you didn't participate this week, but want to participate next week, here are your items (these can also be found at the bottom of my blog each week):
On the note of "Rule of Thirds," I wanted to give
Kat from Exploring with a Camera
a shout out for her latest theme:
Printed Aspect Ratios
. Printed aspect ratios doesn't exactly make for the best scavenger hunt theme, but the lesson is relevant to all of us with a camera…especially if you're thinking about having any of your pictures printed. When you have a chance, be sure to click over for an informative read.
Again, thank you to
Kamana
and
Mikayla
for so many great scavenger hunt items. If you'd like to contribute items to the list, just send me an email with your suggestions (I can better keep track of them this way). Each week, I will select one reader's prompt list, add those items to what is currently on tap and give the selected reader a shout out on my blog during Scavenger Hunt Sunday. Also, be sure to come back tomorrow for
Shoot and Edit: Part 1, Week 46.
The prompt/theme is "Gratefulness." Happy Shooting!