Thank goodness that last week is over…or rather, thank God for the start of a new week. Many of you know that I design and develop custom training as part of my day job. If anyone should be a fan of "training," it should be me. Although I certainly learned a lot about how to run a business (so what if it wasn't a photography business – the information was incredibly helpful), I also learned that I might be the world's worst training participant – okay, that's a huge exaggeration, but I am definitely glad it's over.
I missed blogging…I missed commenting…I missed being a regular part of this community. Thank you for being patient with me and thank you for all of your supportive comments. I know that I wasn't able to respond to every comment or make return visits like I normally would, but this week should get me back to normal.
With that said, if you've been participating in the Scavenger Hunt each week, I hope this week's items inspired you. If you're new to the Scavenger Hunt…WELCOME! Next week's items are sponsored by
Paper Heart Camera
and
Kamana
.
The rules are simple:
Anyone can participate.
You're encouraged to take five new photos this week for the challenge. Creativity is also encouraged!
If you get stumped, you may use one photo from your archive (although I'm not too strict about it – I do my best to take fresh shots).
Link up here on Sunday (or Tuesday at the latest) – you can use the button above.
Leave comments for at least five entries around yours (we have so many new participants each week, this is the only way I know to be inclusive).
Have fun!
Without further discussion…here are my interpretations this week:
If you want to see my original image, mouse over. I took this shot a few weeks ago with the intention of doing something with it at a later date. Until yesterday, I hadn't touched it…and then I went a bit wild. I started with a clean edit and crop in Lightroom. Then, I moved it to Photoshop where I rotated the image, added a spider web, some text and applied Kim Klassen's Phoebe texture.
This is another shot I took a couple of weeks ago, but processed yesterday. I'm not sure that this is exactly what Kat was going after, but it's the best I could do with the time I had available this week.
I don't know if you read
Kent Weakley's custom bokeh tutorial over at at High Calling Focus
, but I can't wait to try yet another bokeh technique…especially with the holidays approaching. Since my time was a bit sparse this past week, I did not make a new bokeh disk. Instead, I used my Lens Baby with a heart-shaped disk. I love the colors that I found yesterday afternoon.
And yet another photo from a few weeks ago. This was taken during a recent visit with my in-laws. I think I pointed my camera at my feet and my niece jumped in. I think we're both wearing the right shoes.
Finally, another photo from my birthday photo session last weekend. There's nothing I love photographing more than little features.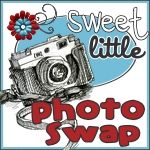 What were your interpretations of the items this week? I can't wait to check them out. Be sure to load your pictures on your blog (or your Flickr photostream) and link up at the bottom of this post. Feel free to grab a button to display on your blog along with your scavenger hunt items. The linky will be open until Tuesday night at midnight (EST). If you didn't participate this week, but want to participate next week, here are your items (these can also be found at the bottom of my blog each week):
Again, thank you to
Paper Heart Camera
and
Kamana
for so many great scavenger hunt items. If you'd like to contribute items to the list, just send me an email with your suggestions (I can better keep track of them this way). Each week, I will select one reader's prompt list, add those items to what is currently on tap and give the selected reader a shout out on my blog during Scavenger Hunt Sunday. Also, be sure to come back tomorrow for
Shoot and Edit: Part 1, Week 45.
The prompt/theme is "Family." Happy Shooting!