Oh what a busy week…and weekend. Until yesterday afternoon, I was still missing THREE photos for this week's scavenger hunt. Between my day job and editing photos from a last weekend, it just got put on the back burner. 
On that note, I should warn you that next week will be even busier. I am participating in an intensive training program at work that will require a lot more of my time and energy than usual. I'm still planning on posting something daily, but I my ability to comment and visit will be significantly reduced.
With that said, if you've been participating in the Scavenger Hunt each week, I hope this week's items inspired you. If you're new to the Scavenger Hunt…WELCOME! Next week's items are sponsored by the 
Kat
,
High Calling Focus
and
Jenny Rain
.
The rules are simple:
Anyone can participate.
You're encouraged to take five new photos this week for the challenge. Creativity is also encouraged!
If you get stumped, you may use one photo from your archive (although I'm not too strict about it – I do my best to take fresh shots).
Link up here on Sunday (or Tuesday at the latest) – you can use the button above.
Leave comments for at least five entries around yours (we have so many new participants each week, this is the only way I know to be inclusive).
Have fun!
Without further discussion…here are my interpretations this week:
Yesterday afternoon, I had the pleasure of photographing my friend's son's 2nd birthday party. Going into the party, I was secretly hoping that there would be some tasty treats worth photographing. My friend delivered…pumpkin spice and red velvet cupcakes. They were delicious!
Purple was rather tricky for me, seeing how it's not one of my favorite colors. Furthermore, there is usually not a lot of purple at boy's birthday parties, but I did find one purple balloon!

On Wednesday, I shared some photos of my brother and his girlfriend (click
HERE
)…here is one more. They aren't fooling anyone with these masks!
Here's the birthday boy from yesterday – Judah! I guess I could have shared any number of shots to represent "shapes," but I really liked the checkered table cloth. Lots and lots of squares.
5. Photographer's Choice
I seriously think they should use this as their Christmas card…it could say something like "Jump for Joy" or "Joy to the World." Sure Andy looks like he's about to poop in his pants, but I think that's what makes it extra funny.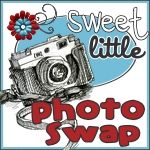 What were your interpretations of the items this week? I can't wait to check them out. Be sure to load your pictures on your blog (or your Flickr photostream) and link up at the bottom of this post. Feel free to grab a button to display on your blog along with your scavenger hunt items. The linky will be open until Tuesday night at midnight (EST). If you didn't participate this week, but want to participate next week, here are your items (these can also be found at the bottom of my blog each week):
Kat,
High Calling Focus
and
Jenny Rain
for so many great scavenger hunt items. If you'd like to contribute items to the list, just send me an email with your suggestions (I can better keep track of them this way). Each week, I will select one reader's prompt list, add those items to what is currently on tap and give the selected reader a shout out on my blog during Scavenger Hunt Sunday. Also, be sure to come back tomorrow for
Shoot and Edit: Part 1, Week 44.
The prompt/theme is "Macro." Happy Shooting!