I'm in denial…it's DECEMBER. How did that happen? And Christmas…only 21 days away? Are you ready yet? I know I'm not. But that's not why you're here…so enough of me. If you've been participating in the Scavenger Hunt each week, I hope this week's items inspired you. If you're new to the Scavenger Hunt…WELCOME! Next week's items are sponsored by
Kat
and
Michelle
. 
The rules are simple:
Anyone can participate.
You're encouraged to take five new photos this week for the challenge. Creativity is also encouraged!
If you get stumped, you may use one photo from your archive (although I'm not too strict about it – I do my best to take fresh shots).
Link up here on Sunday (or Tuesday at the latest) – you can use the button above.
Leave comments for at least five entries around yours (we have so many new participants each week, this is the only way I know to be inclusive).
Have fun!
Without further discussion…here are my interpretations this week:
Today will be the last day I share photos from my session last weekend, but isn't this photo great? I remember setting up with just the two girls and hoping we could work in the little one…it didn't exactly work out that way but I still love this shot.
I was going back through some of my pictures from my time with
Kat
a couple of weeks ago when I ran across this one. There's nothing perfect about it. It's slightly out of focus. I chopped off a limb and part of Brandon's head. But, there's that element of freedom and childish joy that really takes me back to my own childhood.
Another photo from my time with
Kat
….and another moment that is technically far from perfect. I have a couple of shots of Kat and Brandon looking into each other's eyes that is pretty sweet, but I kept being drawn back to this one. There's something about that beautiful golden hour that blows my mind…and then to capture a moment in "TIME" like this one. It's really special.
The other night I asked my husband if he would help me for a second…to shoot our Christmas card photo. I had this brilliant idea to cover ourselves with colored lights in the dark so that the lights would illuminate our faces. Needless to say I hated the way the lights looked on our faces (at least in color) so this is NOT our Christmas card…but I still like it in black and white.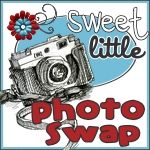 Finally, I thought you'd get a kick out of the baby in action (yeah yeah, I know its' not in focus or anything). Look at that smile on her face as she runs past the camera. She is absolutely thrilled to be going against any direction I give her.
What were your interpretations of the items this week? I can't wait to check them out. Be sure to load your pictures on your blog (or your Flickr photostream) and link up at the bottom of this post. Feel free to grab a button to display on your blog along with your scavenger hunt items. The linky will be open until Tuesday night at midnight (EST). If you didn't participate this week, but want to participate next week, here are your items (these can also be found at the bottom of my blog each week):
Less is More
Holiday Lights (Exploring with a Camera Prompt – click HERE for details)
Cup of Cheer (Michelle's suggestion: 25 Days of Christmas)
Again, thank you to
Kat
and
Michelle
for so many great scavenger hunt items. If you'd like to contribute items to the list, just send me an email with your suggestions (I can better keep track of them this way). Each week, I will select one reader's prompt list, add those items to what is currently on tap and give the selected reader a shout out on my blog during Scavenger Hunt Sunday. Also, be sure to come back tomorrow for
Shoot and Edit: Part 1, Week 48.
The prompt/theme is "Holiday/Christmas." Happy Shooting!
Also, did you see that I'm bringing back Memories, Dreams and Reflections? If you participated last year, then I hope you will be inspired to once again take a walk down memory lane with me and share your favorites moments from 2011. If this is your first time hearing about MDR, be sure to click over and check it out – you can sign up  now and link your photos starting January 1, 2012. Much like Scavenger Hunt Sunday, feel free to write as much or as little about each photo.